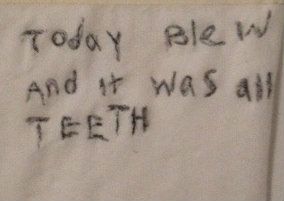 Significant Form
Clive Bell claims that aesthetic emotion is produced by significant
form. Significant form is the quality that makes a thing a work of art.
Thus, it follows that all works of art produce aesthetic emotion
(in the "sensitive" observer, that is.) It also follows from what
Bell has said that there are no objective criteria by means of which
one could distinguish works. According to Bell, there must be one
quality which is the essence of Art and without which an object
cannot truly be called a work of art. That essential quality he
refers to as significant form. Now, what does he mean by "significant form"?
How do we know this quality? Bell describes this essence as
significant form being, "[l]ines and colors combined in a particular
way" and "certain forms and relations of forms" that produce the
aesthetic emotion in an individual viewing the work of art.


Bell is sure to never state what significant form looks like because it can
only be felt and not described. But then how do we know that a particular
emotion is the aesthetic emotion and not some other kind of feeling that we
are confusing with the aesthetic emotion?
We may disagree about whether a given object has significant form (based
on the differences in our feelings when looking at the object), but we can
still agree that a thing must have significant form in order to be a work
of art. Clive Bell claims that "[t]he starting-point for all systems of
aesthetics must be the personal experience of
a peculiar emotion". In other words, Bell believes
that, stemming from common sense, the aesthetic
experience is essentially personal and private.


Bell claims, what we may claim as "works of art" will inspire such a
personal and aesthetic experience, an emotion that will be felt by,
"all sensitive people". If this is true, then the job of aesthetics is
to find the quality common to all objects that produce this aesthetic
emotion. This sort of project is not unlike Plato's attempts to discover
the essences of certain concepts such as beauty, justice, knowledge,
truth, etc. For example, Plato asks the following sort of question:
"Given that there are many different kinds of things that we call beautiful,
e.g. beautiful songs, beautiful people, beautiful buildings, beautiful
sunsets, etc., what is it that makes all these beautiful things beautiful?
What is it in these things that would justify our calling them beautiful?


Bell can be thought of as following Plato's lead here
in what is called the search for the essence of a thing,
in Bell's case, the essence of Art. As Plato has asked
and has attempted to tackle, Bell does the same in asking
what is the essence in art—a common quality shared by true
works that inspire this aesthetic feeling.


While many things have been called "art", only some of them share a common
property. Deciding what this unknown common essence is goes beyond gathering
a group of intellectual people together to agree on what it is and give it a
name. This difficulty allows many to be skeptical of the existence of such a
common property. However, this feeling of aesthetic experience in undeniably
real and can only be felt by the individual, it cannot be learned or forced
upon individuals.


Bell claims that beauty is a more general concept than significant form. Natural objects can be beautiful, but they are not works of art. To appreciate a thing aesthetically is to take pleasure in the mere appearance of the thing, with no thought or interest in owning it, preserving it, etc., i.e. with no attachment to it. This leads us to the idea of the autonomy of art. For something to be a work of art, having significant form, true aesthetic emotion will be felt from the work without knowinf the context of its origin. The way in which the lines and colors come together inspires this feeling in just the way it appears. It follows that art is independent of life and our social relations. To the extent that we treat an object as art, we must necessarily bracket all concerns relative to everyday mundane life. "Art transports us from the world of man's activity to a world of aesthetic exaltation...[I]t lifts us above the stream of life [to] a world with emotions of its own." (9) Art carries us "out of life into ecstasy". (10) This thesis of the autonomy of art—its freedom from the social, political and economic aspects of life—is one of the central and most controversial aspects of Bell's formalism.